Micro mesh expanded metal is a kind of special expanded metals made of fine metal sheets ( mainly stainless steel, aluminum, brass and titanium) in diamond pattern. metal
micron mesh foils
have smooth flat sheet surface and finer dimensions of the mesh openings. The metal sheet has a thin thickness, mainly used as
Auto Air Filtration Sheets, Acoustic Screening Panels, Shielding
and masks for radios and record players, aesthetic paneling and decorations.
Light Weight Micro Hole Expanded Aluminium Wire Mesh Foil Acoustic Screen Panels
This highly efficient aluminum mesh has been proven to perform in a diverse range of applications. The material is available as coils, cut to size sheets and formed bespoke components. Amongst its uses, aluminum foil is layered into filter panels to capture dust and grease for both internal and external air filtration. The product offers a range of versatile features which have been adapted to suit a range of functional applications including heat spacers in the automotive industry, anti-explosive products and components for grease air and oil filtration.

Aluminum mesh foils have easily formed shapes, economic cost, and validated for a diversity of uses. Suitable for air, grease, oil and dust filtration, and acoustic panels.
Decorative Micro Mesh Expanded metal

Micro Small Hole Expanded Copper Mesh
Sizes: long way of mesh: tb: 12.5-200mm;
Short way of mesh: 5-80mm; thickness: 0.5-8mm;
Expanded metal mesh at length from 600-4000mm and width from 600-2000m.
Micro Stainless Steel Expanded metal Mesh Grill Shielding Screen
Material: The thickness of expanded metal is from 0.3mm to10mm,and the width of the metal wire mesh can reach 3m.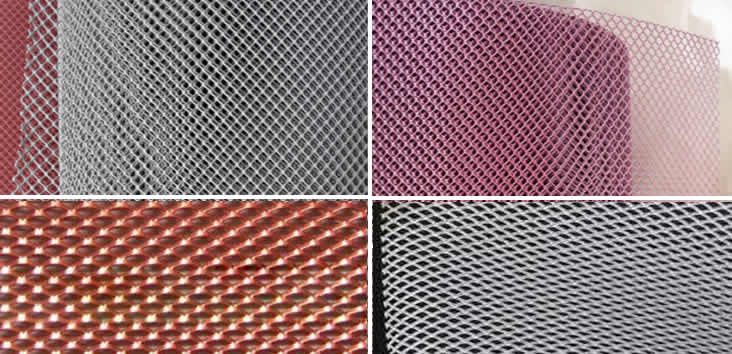 Specifications:LWM: 3.0MM-100MM, SWM: 2.0MM-80MM, Strand Thickness: Up to 8.0MM, Strand Width: 0.3MM-8.0MM , Width: 0.5M-2.4M, Length: 0.5M-25M.
Stainless steel metal screens are manufactured from fine metallic foils, which are cut out and later expanded in the traverse sense until reaching the metal width programmed. The foil allows air and light passage while protects the interior devices.