Common strand section profiles
include 1x2, 1x3, 1x7 wire structures. Popular strands we offer are 1x7 wire structure unbounded pc steel strands: Diameter 12.7mm 7 wire strands, 15.20mm 7 wire, 15.24mm 7 wire and 15.70mm 7 wire. Weight ranges from 2MT to 4MT. Steel rod materials for processing of PC strands are high carbon steel 77B and 82B. Tensile strength can be 1670Mpa, 1770Mpa, 1860Mpa optional.

Technical Treatment in Production to Ensure Proper Using with Concrete:
The pc strands are made of continued drawing with large deduction stranding then stabilizing treatment;
The carbon steel materials have high rate of yield strength and ultimate strength, Low relaxation;
Steady modulus of elasticity, stress relieved in production, highly fixed with Concrete.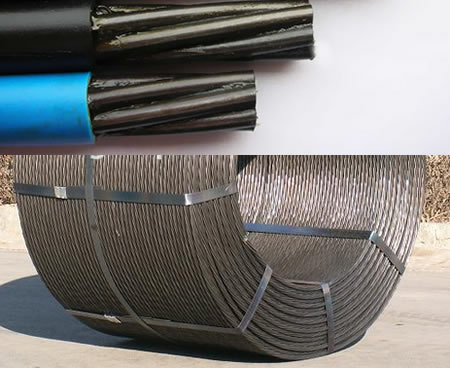 General Technical Information of P. C. Strands:
Structure: 1x7 wire, 1x2 wire,1x3 wire,1x19 wire
Property: Low Relaxation, High Tensile strength
Common type: Unbonded
Materials: Cold drawn steel wire
Tensile Strength: 1470Mpa ~ 1960Mpa
Yield Strength: 1320Mpa ~ 1760 Mpa
Elongation: Not less than 3.5%
Initial Load: Not more than 70%
Relaxation(1000h):No more than 2.5%
Strand Diameter Available: 9.53mm, 12.7mm, 15.2mm, 15.7mm, 17.8mm, 21.8mm
Packing Details: Standard Export Package (Wrapped by steel strips, waterproof cloth sheet, wooden pallet)
Standards: Following international standards in production of PC Strand: GB/T5224 (China Standard), ASTMA416, ASTMA421 (USA), BS5896(UN), JIS3536(Japan), AS/NZS4672(Australia), NBR-7483(Brazil), EN10138(Europe), ISO6934.
Uses: Mainly used as building material reinforcing strand for concrete structures such as Bridge Beam, Mining anchoring, Slope reinforcement, Dam reinforcement, offshore oil platform, Nuclear power plant, railway sleeper, bridges, railway station and multi-floor buildings.