USP is the abbreviation for US Pharmacopia, and SUS 70 refers to the viscosity of white oil. The corresponding CST viscosity range is: Kinetic Viscosity 12-15 cSt at 40℃, the relative density is 0.85-0.855 grams/cc.
White oil used in contact with food needs to meet the standards of The National Formula (NF) or US Pharmacopeia (USP). Our company produces food & cosmetic grade white oil that meets the above conditions. If there is a need, you can consult us for a quotation.
White mineral oil USP (United States Pharmacopeia) is a highly refined and purified form of mineral oil that meets specific quality standards set by the USP, SUS 70 refers to the kinematic viscosity range of white oil. Here's some information about its characteristics and applications:
1. Purity and Safety: White oil USP undergoes rigorous refining processes to remove impurities and contaminants, ensuring its purity and safety for use in various applications, including those involving direct or indirect contact with food, s, and personal care products.
2. Lubrication and Moisturization: It is commonly used as a lubricant and emollient in s, cosmetics, and personal care products. It has excellent lubricating properties and can be found in ointments, creams, lotions, and various topical formulations. When applied to the skin, it helps to moisturize and soften the skin's surface.
3. Stability and Shelf Life: It has a long shelf life and remains stable over time. It is resistant to oxidation and does not spoil easily. This makes it suitable for use in formulations that require extended product stability, such as creams, ointments, and other emulsions.
4. Inert and Non-Allergenic: It is an inert substance, meaning it does not react with other ingredients or substances. It is generally non-allergenic, making it suitable for individuals with sensitive skin. Its non-comedogenic nature also makes it less likely to clog pores or cause acne breakouts.
5. Other Applications: Apart from personal care and products, white oil USP is also used in various industrial applications. It can be found in the production of adhesives, coatings, lubricants, can be used for food processing lubrication, cake demolding, and as a process oil in the rubber and plastics industries.
As with any product, it is important to use mineral oil SUS 70 according to the specific guidelines and regulations relevant to your intended application. If you have specific concerns or questions, it is advisable to consult with professionals or experts in the field.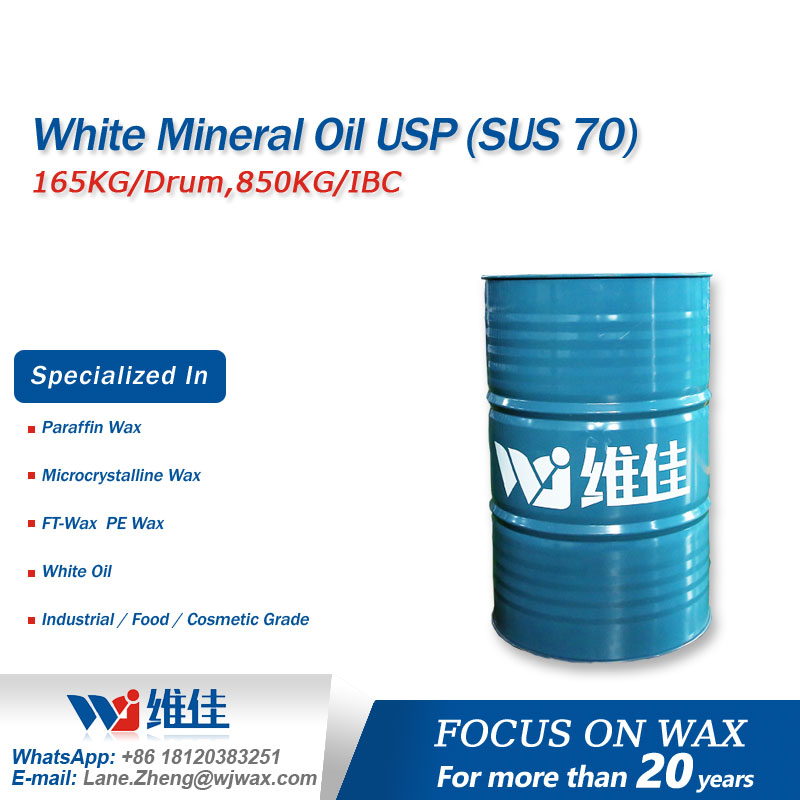 What is food grade white oil?
Food grade white oil is a type of mineral oil that is used in the food industry for various purposes. It is a clear, colorless and odorless oil that is made from highly refined base oils.
The oil is purified to remove impurities and contaminants, making it safe for human consumption. It meets the strict requirements of the FDA and other regulatory bodies around the world, ensuring that it is safe for use in food products.
Common applications of food grade white oil:
1.Coatings(Fruits, Vegetables, Defoamers, Shell egg spray, Bakery pans, Knives)
2.Prevents rust on food processing machinery
3.Used in cosmetics and s
4.Textile fiber lubricant
5.Grill release agent